1. Occupancy
Through the information shown in this section, we can make an analysis of the historical occupation, thus having a clear image of the seasonality shown and the peaks in demand month by month. You can also access data from previous years to make this comparison.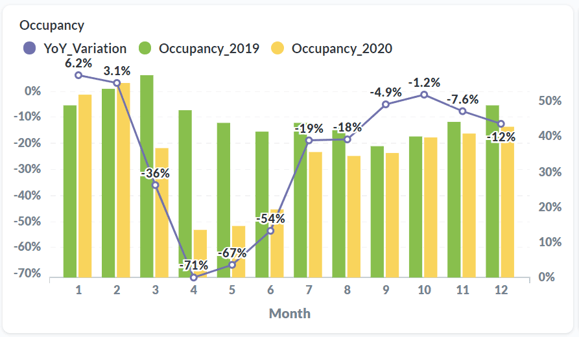 Similarly, we are showing pricing data so you can make an analysis of the fluctuation of the prices month over month and evaluate its changes by seasons.
Below, we explain in detail the methodology applied to calculate these indicators.
By looking at the changes we observe in the calendars of each of the properties we can infer the occupancy of the markets. We can categorize the status of the property as the following:
A: Available Days
R: Reserved Days
B: Blocked Days (never been available)
W: never been available but we don't have enough data to be sure it is blocked (< 200 days)
N: Advance Notice Days. Is when a listing is not booked but is not either available for booking because the owner asks for a delay before a guest can enter the property (example: delay needed to clean the house or if an owner has a policy of always being present during check-ins but is not available that day, ...).
L: days we mark as blocked because they are part of reservations with length of stay > 30 days
The occupancy indicates the proportion of occupied accommodations, which is calculated as follows: R/( R + A + N )
2. ADR (Average Daily Rate)
In this graph, we show the advertised prices for the listing on the specific pricing date.